4 Reasons to Change Your Career to Computer Science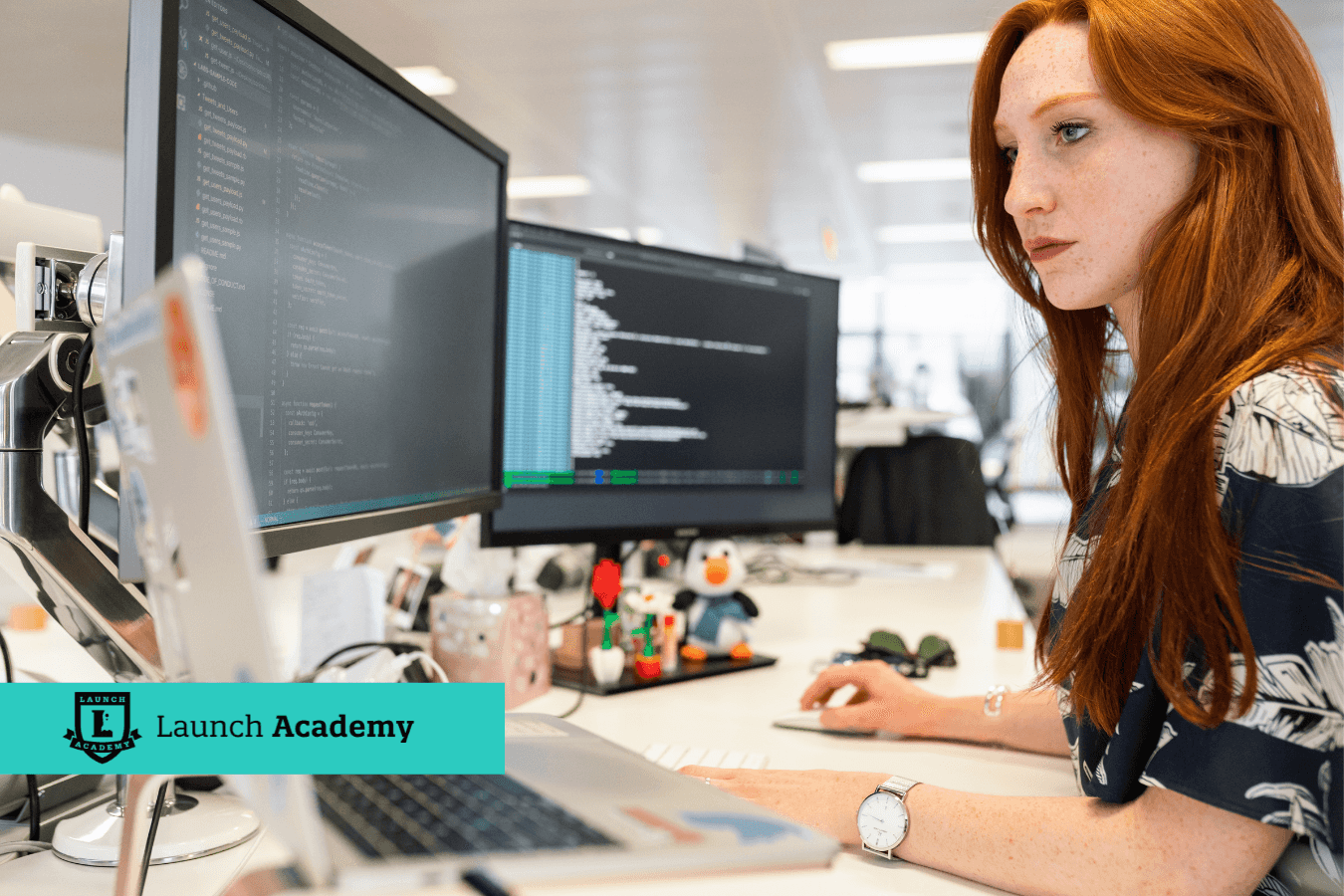 Have you ever thought about changing careers to computer science—but doubted yourself too much to begin? Maybe you told yourself it would be too hard or that you didn't have enough time to go to school for software development.
At Launch Academy, we've seen thousands of students work through the doors of our coding bootcamp. And we know from experience that the majority of people interested in computer science don't know if they'll be good enough as software engineers. This uncertainty often stops them from pursuing their dreams.
We want you to know that your dreams are worth going after—and that you're probably more qualified for a career in computer science than you believe.
Are you tenacious? Do you like solving problems? Do you enjoy brain teasers? Do you have the follow-through to bring a project to completion?
You don't need to be a physics whiz or calculus expert to be a software engineer. As long as you have a basic problem solving mentality and the ability to break down projects into discrete steps, you can become a successful software engineer.
If you're waiting for a sign to make a change, this post might just be it. ;)
Why Change Your Career to Computer Science?
Here's why a shift to computer science may be the right career move for you:
Work remotely.
Working from home may seem like a new trend, but software engineers have been telecommuting for decades.
Software engineering doesn't require a traditional office environment because the field inherently gravitates toward asynchronous communication (i.e., communication that doesn't happen in real time). Project management tools like Clubhouse, Jira, Slack, and Pivotal Tracker help teams work productively while building community, even across multinational teams.
As the United States returns to a new sense of normalcy post-pandemic, many big software companies are deciding to permanently go remote. They've realized that as long as they have the right processes in place, such as an Agile project management methodology, their teams can effectively collaborate from anywhere in the world.
So, if you're someone who values the ability to create your own schedule and work flexibly from home, software engineering can be a great fit..
Get hired easily.
Software companies are constantly hiring. From the turbulence of the 2008 recession through the economic repercussions of the COVID-19 pandemic, demand for software engineers continues to surge.
According to BLS statistics, the need for software engineering jobs is projected to increase by 22% in the next 7 years. And that increase is on top of a job market where engineers are already in high demand!
Software engineers earn good money, too. Launch Academy's school participates in Council on Integrity in Results Reporting (CIRR), which measures and standardizes communication about student outcomes. They've reported that, on average, our alumni earn starting salaries around $70,000.
Keep your degree, no matter what it is.
How many times have you thought to yourself, "I'm unhappy at my job and I want a change, but I'm stuck because of my degree"?
The beauty of software engineering is that you don't need a math or science degree to get into the industry. Many expert engineers don't have an undergraduate degree in computer science. They may have specialized in music, history, communication, or English before changing their career down the line.
The beauty of software engineering is that you don't need a math or science degree to get into the industry.
The traditional perspective that going back to school requires a new college degree is changing altogether. In our conversations with hiring managers, we're learning that software developers are hired for their ability to learn, not because of their formal education in software engineering.
The propensity to learn new information in a short amount of time is known as your metacognitive ability. It's an incredibly valuable skill in our industry.
Because metacognitive skills are so important in software engineering, short burst learning activities like Launch Academy's 18-week coding bootcamp are in high demand.
Communicate, collaborate, and be creative.
We all know the stereotype of the computer nerd, sitting in a cubicle and endlessly typing away. While the Launch Academy team fully embraces our nerdiness, real programmers do so much more than sit alone writing lines of code.
Software engineers do spend plenty of time coding, but the job requires much more interpersonal communication than the stereotype suggests.
Years ago, software projects had gatekeepers that stood between engineers and clients and facilitated communication between teams. But these days, the best firms have their software engineers iterating alongside customers, talking to stakeholders, and collaborating directly rather than being siloed.
Realistically, software engineering team leads spend more time collaborating and meeting with product owners than writing code. At its core, software engineering is a communication challenge—not just glorified data entry.
Building software can also be a way to exercise creative freedom. Creative minds understand the euphoria experienced when you've built something from nothing. Code starts at nothing and becomes a real product that makes a difference in the world. Software engineers aren't just computer nerds making intangible computer things; they're helping people every day!
Don't let imposter syndrome stop you from making a career change. Software engineering isn't about pedigree or where you come from. As long as you start with the desire to dig in and learn, you're fit for the job.
If you have a passion for computer science without the technical know-how, Launch Academy is here to help. Start your application today!