Launcher Stories: Karen Bala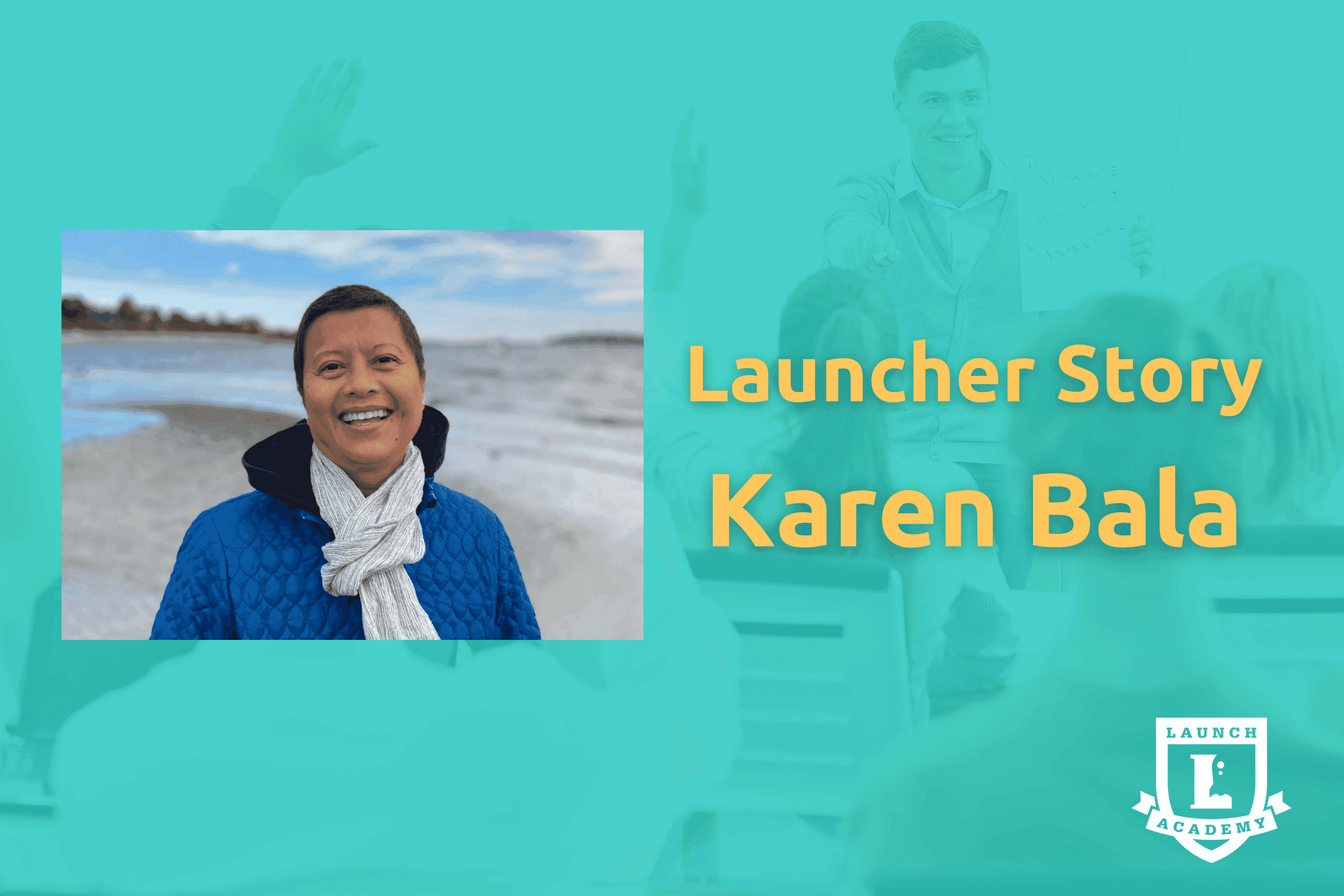 Karen Bala was already successful. She was an architect with 20 years under her belt and had earned the lofty role of Design Director at a busy firm. Mentoring young designers, heading up projects, and leading the firm's design direction filled her days with meaning and purpose. But everything was about to change. Dramatically.
COVID crashed into Karen's well-built career like a wave. As the pandemic ebbed and flowed, architects faced urgent demands for technology-centered designs. She knew she needed to expand her skill set to stay on top.
Karen completed a UX certificate program, adding new tools to her repertoire and prompting her to assess user experience in a new light. "It wasn't just about coming into a space and working successfully," she explained. "I had to make sure our tech stack was successful. As I moved further into code and started really enjoying it, I got to thinking, How else can technology promote better design?"

"As I moved further into code and started really enjoying it, I got to thinking, How else can technology promote better design?"
Karen's Bold Move: Enrolling in a Coding Bootcamp
Meanwhile, one of her close friends had made the leap into software development. He recommended Launch Academy's full-time, in-person coding bootcamp. But could Karen really go all-in and train for a new career? Could she make the major decision to quit her job, take out a loan, and return to school?
"As someone with a career who hadn't been in an academic setting in a long time, I was impressed to see how Launch Academy could set me up for success," she said. "They did a lot to prepare me for an intense period of learning and growth." Karen also appreciated Launch Academy's job placement success rate.
She took the leap and enrolled.
Karen's Launch Academy Journey
In the coding bootcamp's fast-paced environment, every day was different, and questions weren't just allowed—they were expected!
"For an adult learner to be successful, they need a space that's safe, and Launch Academy has done a great job of creating that space," Karen explained. "Some students were changing careers, others were right out of college, and some didn't have any college education. But Launch's teaching style met the students right where they were."

"For an adult learner to be successful, they need a space that's safe, and Launch Academy has done a great job of creating that space."


The biggest challenge of coding bootcamp
"I've found that the most successful coders are those who accept that code breaks," Karen shared. "Rather than looking at it as a failure, they dig in to understand why it didn't work. They recognize that it's better to tackle errors early on than after a program launches."
But reaching that point of acceptance herself was Karen's biggest challenge. "Coming from a design background, things are more organic: there is no clear right or wrong," she explained. "In coding, however, things either work or they don't. It's either successful or it's not."
As her cohort experienced the ups and downs of writing, breaking, and repairing code, Karen learned to get comfortable with discomfort. Now, when something doesn't go as planned, she's better equipped to respond strategically and with curiosity, a skill that's proving as powerful in the workplace as it was in the classroom.
Growing stronger through group projects
One of Karen's favorite Launch Academy experiences was the group project, a collaborative assignment that simulates a real-world programming job.
"The group project forced us to hone our focus on the particular decisions that would get us to the end," she described. "We had great support from our Launch instructors, and everyone in the group was able to make the most of their individual strengths."
The group project was a rapid, two-week assignment, but some members are still working together 15 weeks after graduation. "Two weeks before classes ended, nine of us from my cohort received job offers from the same company!"
Karen's New Career as a Software Developer
Today, Karen is a Junior Software Developer at National Grid, where she works alongside the eight classmates who also accepted jobs with the electric services company.
She was inspired to take the job by a conversation with a Launch Academy graduate at one of the school's alumni mixers. "He asked me if I was up for another 17 weeks of training after 18 weeks in coding bootcamp," said Karen. "He helped me recognize how much I still have to learn. And National Grid is providing a great opportunity to continue learning as I move into tech!"
Karen's growth is further supported by her fellow Launch Academy graduates. Along with regular alumni mixers, the academy maintains a Slack channel where people can connect and post job opportunities.
And though Karen hasn't looked back since leaving her career in architecture, she remains connected to the industry that first put her on the path to programming. "The challenge for me is not over," Karen admitted. "How do I bring design and technology together? I'm still very curious and motivated by that passion."
Spoken like a true Launch Academy grad.
Looking for your own motivation and passion? Get the latest Launch Academy syllabus and make your next bold move.