Launcher Stories: Marian Stacey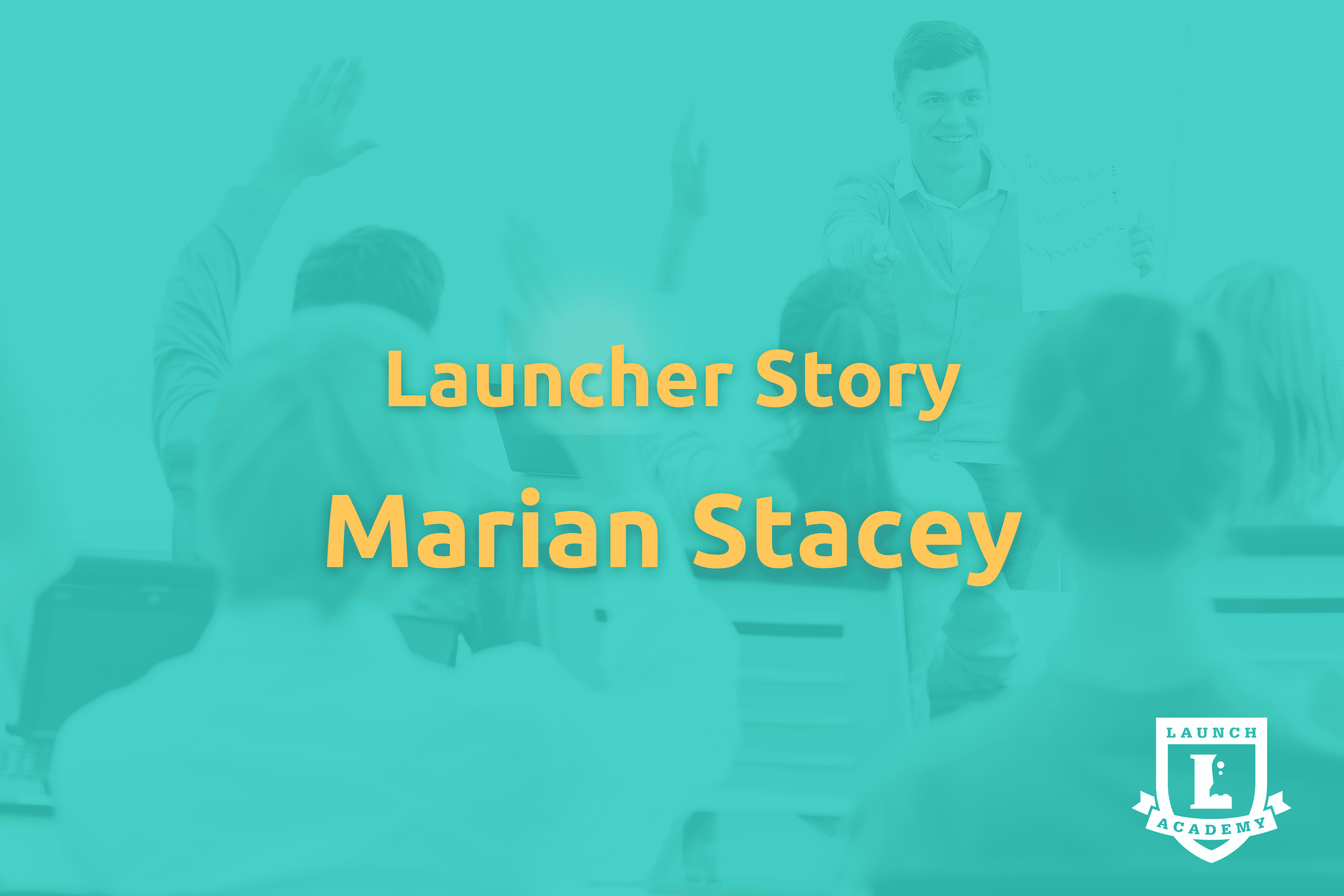 Marian Stacey was feeling stifled in her career in academia and educational publishing. Like many other folks during the pandemic, she found herself doing some soul searching. Ultimately, she came to the realization that she needed more stability and options than her current career could offer.
Although she enjoyed her work, Marian started to worry that she wasn't learning transferable skills in her role. This fear was compounded by the lack of other opportunities that existed for her—the only path she saw available was working for a direct competitor, doing essentially the same job.
Marian's partner is a software engineer, and she couldn't help but notice that they had many career opportunities at their fingertips. "They'd have an interview, and if it didn't turn into anything, it was like, 'No big deal, there will be another interview next week.' And there was," she recalled.
She began researching coding and realized that she enjoyed the continuous learning and problem-solving elements associated with computer programming. Her interest was officially piqued.
Marian's Epiphany: The Decision to Attend Coding Bootcamp
Marian thought long and hard about whether coding bootcamp was the right option for her. "I wanted to go through some curricula on my own and make sure I was enjoying it and that I was still excited to be doing it after more than a few weeks once I got beyond the easy parts," she explained. She sat on her Launch Academy acceptance for a few months, mulling over the decision to enroll.
While she tested the waters to see if this new career would fulfill her, Marian discovered just how much computer programming could add to her life. "I started to realize there's more I can do with this. It was letting me explore a new side of my creativity," she said.
Once Marian established that she enjoyed learning to code and was ready for a career switch, the decision to attend Launch Academy specifically was an easy one. Through her partner, Marian knew several people who had completed the program—in fact, her partner had hired Launch Academy graduates at their workplace. She also knew a few former Launch Academy instructors who were able to answer her questions about career services and what it takes to succeed in a coding bootcamp.
Marian's Launch Academy Experience
During coding bootcamp, Marian had to think differently than she ever had before in her career. In her role in educational publishing, she was always looking at the big picture, but as a software developer, she had to concentrate on the small details. "It did take a little bit of time to get used to, but they slowly ramp you up and give you the help you need. Part of it is just learning to take it slow, so you don't get overwhelmed," she explained.
The staff was key to supporting her learning process. "There were always people there to listen, help out, or look over things if I was stuck on something," she recalled. Her teachers not only helped her identify which minute details were causing problems in her code but also taught her how to make these assessments on her own.
Marian also knew that she had ample support from her peers in the program. "We got into the on-campus experience. We were really encouraged to work with each other, learn from each other, and problem solve together," she said.
Launch Academy prioritizes group work, assigning a group project that challenges students to put their collaborative skills to the test. "It's a really interesting experience because you're going to just have to work with other people. . . there's always going to be little things that happen and personalities to contend with," Marian said. But overcoming these obstacles is crucial to becoming a good computer programmer.
When it came time for Marian to begin building her breakable toy (i.e., her capstone project), she was ready to challenge herself and showcase her personality through programming. She made an interactive character sheet for a game called "Monster of the Week," which had rules similar to Dungeons & Dragons.
"I knew I was stretching myself, and it was a really good time. I had the chance to make something I knew I would enjoy using," she said.
Preparation for the Software Engineering Job Market
When she initiated her job search, Marian had plenty of support from the Launch Academy staff. "They're there to encourage you to bite the bullet and apply to five jobs in the first week, even though it scares you. They're there to make sure you've got your cover letter written. They encourage you to keep coding," she said. Ultimately, Launch Academy held Marian accountable for completing the tasks required to begin the next chapter of her career—and all her hard work paid off!

Launch Academy held Marian accountable for completing the tasks required to begin the next chapter of her career—and all her hard work paid off!
Marian now works at a company called FlatWorld, a digital textbook provider. She landed her job as a junior software engineer about a month after graduating from Launch Academy.
"[The role] immediately appealed to me because of my experience in educational publishing," she explained. FlatWorld had hired Launchers before, so she's confident that having Launch Academy on her resume helped distinguish her from the rest of the applicant pool.
Marian now has the stability and opportunity she was craving, without having to sacrifice her love of publishing and academia. If you want to find new, exciting ways to level up your career, download Launch Academy's syllabus to see if coding bootcamp is right for you!