Launcher Stories: Susan Ma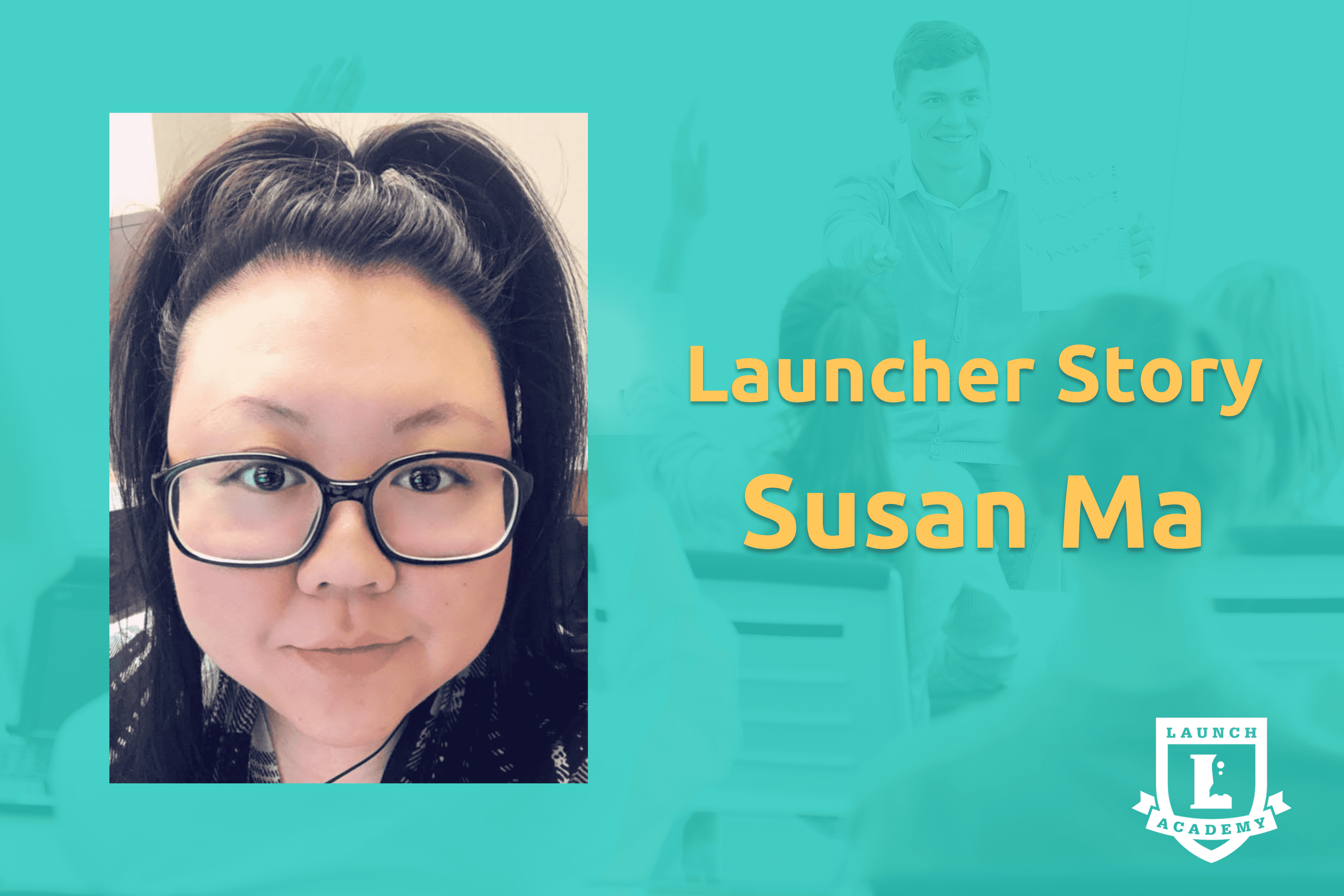 Susan Ma graduated from Launch Academy in 2019 in cohort BOS 26. She had been working in higher education at a game design school in Seattle, Washington, when a family emergency forced her to relocate to the East Coast.
Susan's Epiphany: The Decision to Attend Coding Bootcamp
Susan moved in with her parents in Northern Virginia to be closer to home. She knew she didn't want to move across the country again, so she began assessing career options that would keep her on the East Coast.
She decided early in her search that she wanted to change her career to computer science. "The other roles were great learning experiences, but I wanted to make more money and build more wealth. The tech industry is constantly growing and evolving," she said.
Susan was overwhelmed trying to find an entry point into the industry. That's when she started looking into coding bootcamps and found Launch Academy—which stood out from the competition.
"They emphasized the community and having access to different staff members and instructors," Susan said. She liked that the Boston location meant more opportunities to meet with potential future employers and tech companies in the area.
Attending a one-night JavaScript workshop taught by Launch Academy instructors sealed the deal. "They showed a lot of compassion, especially for people new to the industry. It gave me a lot of comfort that they had a great teaching style that matched with my learning style," she said.
Susan's Launch Academy Experience
Launch Academy's program is rigorous. Susan knew it would be challenging but didn't anticipate how much she would struggle initially. She felt unprepared for what was ahead of her, but the Launch Academy community and her cohort kept her going.
"The instructors had so much patience and were so helpful. They understand this information is difficult when you're completely new to it. Having that support from them was really important. That was a core piece that was missing from other camps I'd researched," Susan said.
Though the work didn't get easier, Susan realized she could lean on her cohort at Launch Academy to make it through the program. Getting into a routine and building relationships with her instructors helped, too.
Preparation for the Software Engineering Job Market
Launch Academy taught Susan the technical skills she'd need to be a good programmer and the soft skills she would ultimately need to excel in her future job. "That was a big takeaway for me because it's difficult to feel prepared for the industry without working through those team dynamics and understanding different communication styles," she said.
Career Kickoff—an opportunity for students to present their capstone projects to potential employers—was key to Susan finding her first internship at a company called One Door. A representative from One Door saw Susan's presentation and was so impressed that they wanted to bring her on board.
When the internship paved the way for a potential full-time role, Susan faced impostor syndrome during the hiring process. But Launch Academy's career services supported her through it by helping her perfect her resume, generate talking points about her experience, and brainstorm answers to questions the interviewer was likely to ask.
Her hard work paid off, and Susan officially landed her first entry-level software developer job. From there, she went on to work as a software engineer at This Dot Labs.
Today, Susan is a community engineer at StackBlitz, and her job involves more than coding. Most of her work is technical, but she draws on the soft skills she was able to practice during coding bootcamp regularly in her day-to-day work.
Interested in pursuing a career in software engineering? Download Launch Academy's syllabus today!