Launcher Stories: Tyler Hui Mingalone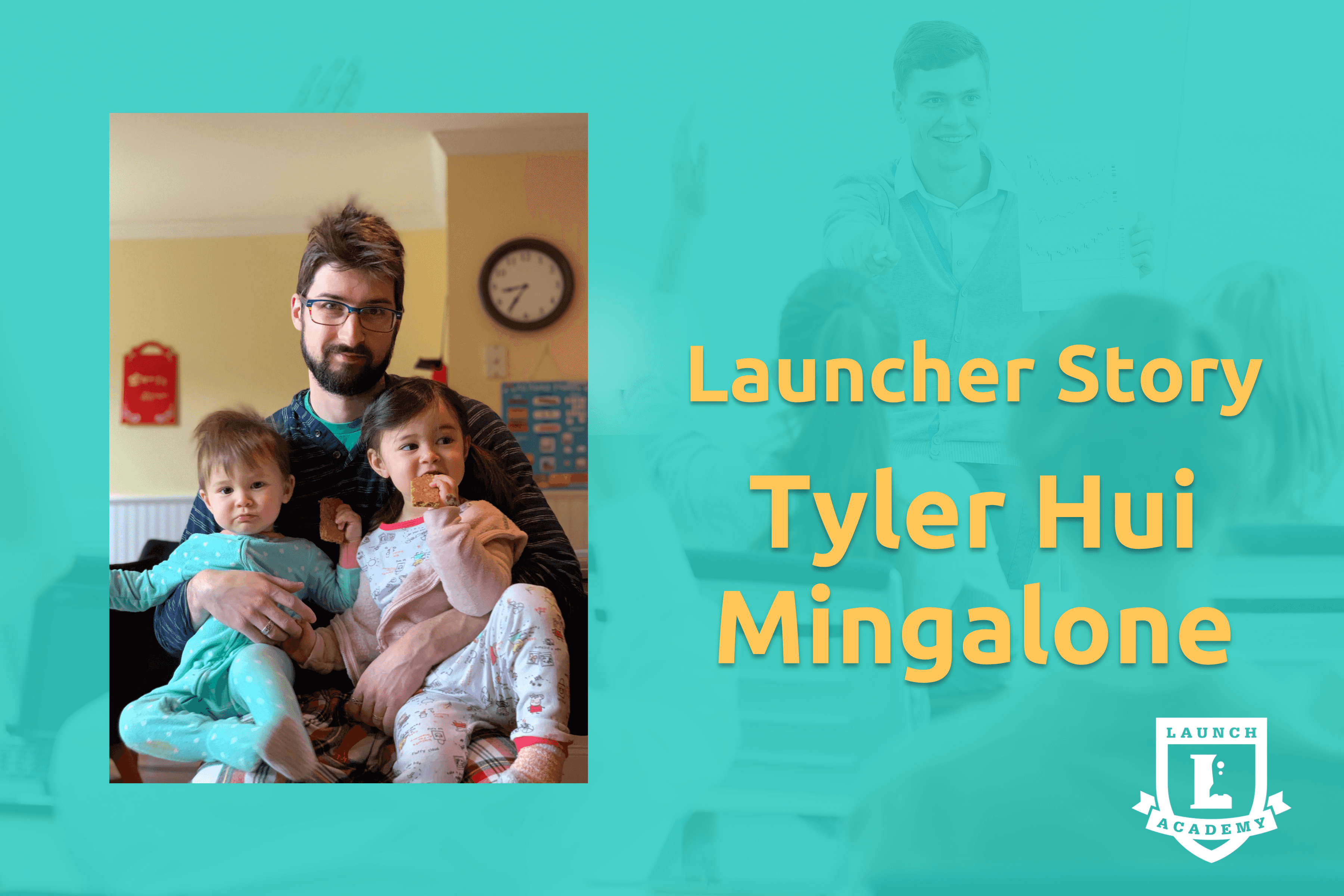 Like many teachers, Tyler Hui Mingalone was burned out. His job at a small private school had taken a toll on him; he ended each day feeling stressed and exhausted.
Tyler and his wife also wanted to have a baby, and on his current salary, they couldn't feasibly support a family.
"As we were thinking about starting a family, it was like, 'Can we actually make that work with this salary? If we do want to make it work, what does that mean about where we can live?'" Tyler explained.
Tyler knew it was time for a change. His wife pointed out that between his problem-solving skills and love of puzzles, he had the right skill set to learn to code.
Tyler's Epiphany: The Decision to Attend Coding Bootcamp
Ironically, software development was in Tyler's blood: both of his parents were computer programmers. He remembers his parents speculating on whether their jobs would eventually move overseas; that concern initially pushed him away from a career in software development.
As it turns out, Tyler's parents were wrong.
"Here we are, more than 25 years later, and there's a ton of jobs available in the United States. Once I thought about it again, I thought it would be a good fit," he said.
Tyler saw three paths ahead: go back to school to get a degree in computer science, teach himself, or try a coding bootcamp. Financially, he knew it didn't make sense to get another 4-year degree, but he didn't think he had the discipline to successfully teach himself.
He began looking at coding bootcamps in the Boston area, and Launch Academy stood out among the rest.
"At the end of the day, Launch had the most transparent statistics available about what happens with their graduates. They were really upfront about the costs, and they were upfront about what you would be learning," he said.
Other bootcamps offered many different courses for students to choose from, but that wasn't ideal for Tyler. He didn't know enough about computer programming to make an informed decision. Launch Academy offered a simplified approach that was also tailor-made to help graduates secure jobs.
"They know what they're doing, and they do it over and over. It seemed like I would be successful there," Tyler said.
Tyler's Launch Academy Experience
Compared to the high stress associated with teaching middle school, Launch Academy's pre-work (the Ignition phase of the program) felt a bit like a vacation to Tyler. But the intensity ramped up once his full-time coursework began.
"It was definitely very intense, but I think that it was a really positive experience. I made some really good friends there, so there was always a group of us collaborating and spending time together helping each other," he said.
One of the biggest challenges Tyler faced during the program was the group project. "You're so used to doing things on your own, and you need to rely on other people and adjust your workflow with theirs. That was not easy at all," he explained.
Still, the experience helped him think more critically about code because he had to understand other coding styles apart from his own.
Preparation for the Software Engineering Job Market
Tyler believed Launch Academy was his best shot at getting a software engineering job quickly, and he was right.
Between the excellent career services department, his incredible mentors, and the solid education he received, he felt completely prepared for his job search.
Through his capstone project, Tyler was able to solidify his understanding of software engineering concepts and gained problem-solving experience that he could call on during interviews.
"I felt like at the end of it, if I had put the work in, I was going to find a job. That's not everyone's experience, but for me, I felt like the career services team did everything they could to set me up for success," he recalled.
Tyler presented his capstone project at Career Kickoff in early November, had a job offer by Thanksgiving, and began work in early December at Smartleaf, a fintech company, where he's still happily employed today.
Interested in pursuing a career in software engineering? Download Launch Academy's syllabus!